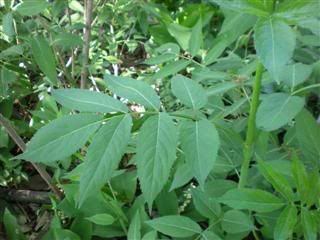 My two-year-old son got into poison sumac which was growing in the more abandoned portion of our backyard, and had the most hideous reaction on his hands. Poison sumac causes a reaction like poison ivy (they both contain
urushiol oil
) but is usually much more potent and toxic.
His hands swelled up and developed blisters like I've only seen on dying kidney failure patients. His hands looked burned. The blisters were all up and down the insides of his fingers, and the rest of his hands were red and inflamed.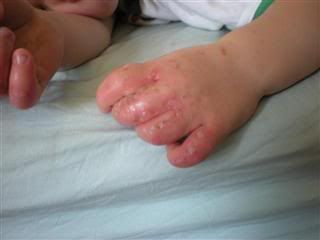 Strangely, he wasn't itching them. For the first two or three days, he held his hands up in front of him and didn't pick up very many things. He would still pick up a fork to eat. Sometimes he would get crabby about them, especially if he knocked his hand against something, but really he was a trooper about it. He would show them to people and say "I got inta somethin!" or "My hands are yucky!" Doctor recommended lots of calomine lotion, which seemed to help dry or flatten out the blisters. He hated when we applied it, but I think that's because the brand we purchased (Ivyrest) has something like 10% benzyl alcohol, which probably burns. Also, between the half-flattened blisters and the weird Pepto-Bismol pink crust that calomine lotion dries into, his hands looked more horrific after the applications than before.
Needless to say I was almost ready to hospitalize the poor kid and await the obviously inevitable bilateral hand amputations! But my wife wasn't really bothered by this. Apparently her sister is somewhat allergy-prone and would develop bad blisters from poison ivy when she was a child. This must be why sexual reproduction is so exciting—you don't know what you're getting into. Each kid is a new opportunity to learn something new and perhaps disturbing about your partner's genotype.
It's been a few days, and he still has hideous leper hands, but he acts as if there isn't any problem at all. He still doesn't want any medicine or ointment on them. It's hard not to take him out in public. I took him and the baby out to the grocery store, and the cashiers were oohing and ahhing over the two of them, and didn't seem to notice...but I think our cashier noticed just as we were leaving, because she made an awful face and looked away. We also took him to my wife's family Memorial Day party, but his hands were just a good conversation piece. I don't think anybody was too grossed out by them, but several people didn't exactly want him touching them. Oh well.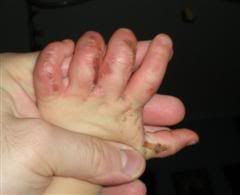 We identified that it was poison sumac via the
The Poison Ivy, Oak and Sumac Information Center
. They have tons of plant photographs submitted by viewers, as well as photos of rashes and other reactions. It was kind of mind-boggling—I marched out into the backyard with a handful of printouts to try to identify plants, and a large bush of sumac was sitting right there, picture-perfect. (That's the image at the top of this post.) With gloves and garbage bags, we tore the sumac out of the backyard. The plants were big and well-established, and one had a larger roots than the plant, so these must have been in the backyard the whole time we've been here. Nobody had a reaction like this.
We submitted our pictures to that website to support the human war against urushiol plant terrorism (although I guess we humans are really invading into their territory). I'll be using that site when we buy a house to investigate the yard.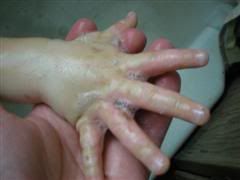 Two weeks later, his hands are halfway back to normal. Kids have amazing healing abilities.