A woman on a breastfeeding forum my wife's a member of told her husband to make a pie chart of why he prefers breastfeeding over formula feeding. Apparently he goes on and on about how great breastfeeding is. So here's what he came up with: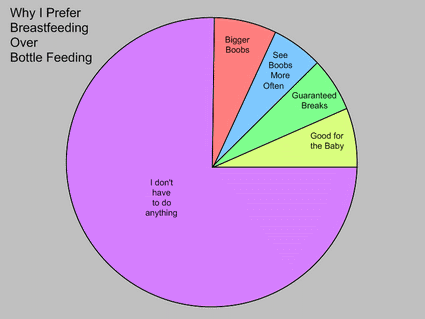 Image credit: Dan Chancellor
I pretty much concur. Although I'd probably add that breastmilk is free, and formula is expensive. I'd also make the "good for baby" section bigger, or even divide it up between benefits. I mean, that would be nerding it up hardcore, but I really value the fact that breastmilk is full of antibodies—not just any antibodies, but the antibodies which particularly defend mucus membranes (defending against colds and flu) and the gastrointestinal tract (defending against diarrhea, colic, gastroenteritis, rotovirus, and other fun bugs and parasites). The antibodies in milk are also the non-inflammatory kind; every other kind causes inflammation when they attack. I imagine this is why formula fed kids are more prone to asthma. Asthma is essentially a hyper-reactive inflammatory disease, and formula kids are kind of left to their own devices without non-inflammatory IgA from mom.
Breastmilk contains the mom's white blood cells, particularly macrophages, the big bacteria-eating cells of the immune system. They also barf up lysozyme, the same enzyme they use to digest bacteria, which serves to acidify breastmilk and destroy more bacteria. (Please don't stop feeding your infant because there's barf in it.)
The acidity of breastmilk supports healthy intestinal bacteria, like
Lactobacillus
and
Bifidobacterium
, and inhibits the growth of diarrhea-causing or colic-inducing bacteria. Formula has a more alkaline pH which pathogenic bacteria thrive in.
Besides having human proteins instead of cow or soybean proteins, it also contains 'active' proteins (e.g. lactoferrin) which bind iron and B12, which deprives bacteria and makes it more bioavailable to the infant. Ironically formula has higher amounts of iron than breastmilk, but this is because it is less bioavailable to the infant—in other words, it has to make up for the difference. (The same principle works with comparing leafy green vegetables versus iron supplements; you get most of the leafy green iron, whereas 95% of the iron in iron supplements just pass through and make your stools black.)
If none of that mattered, it boggles my mind that breastmilk contains growth hormones that babies need. That would be the biggest of the "good for baby" part of the pie chart. Epidermal growth factor is a biggie; it makes the infant intestine 'seal up' faster. Otherwise it tends to leak substances into the blood in an uncontrolled fashion, e.g. cow's milk proteins in formula, which then meet the baby's immune system, initiate an inflammatory reaction, and lead to a milk allergy. But it also contains sex hormones, thyroid stimulating hormone, and other stuff. I don't think you desperately need these hormones (obviously not all formula babies are hypothyroid...although come to think of it, their average weight is lower!), but it seems like they can't do anything but help.
So those are some of the main reasons why I, as a dad, prefer breastfeeding. And I didn't even say anything about boobs!
(Thanks to all the people sharing this on Facebook! If you haven't, feel free to
share it
and educate people.)
_________
See my other post about
Hospitalized Infants and Breastmilk
.
See also
How Breastmilk Protects Newborns
and
The Constituents of Breastmilk
for even more of the science behind breastfeeding.
Like what you see?
Subscribe in a reader!