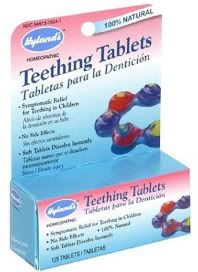 Three days ago the Food and Drug Administration issued a warning to parents to stop using a benign over the counter product which we've used with our kids a dozen times at least:
Hyland's Teething Tablets
. The same day
Hyland's issued a voluntary recall
. The tiny dissolve-in-your-mouth pills contain minute amounts of belladonna, a plant that's been used medicinally for centuries for its antiinflammatory and antispasmodic effects. It is a natural product, but in reality it does contain drugs used in Real Modern Western Medicine
TM
, chiefly
atropine
and
scopalamine
.
Both of these drugs are used in varying amounts in real medicine because they are potent
anticholinergics
. Indeed atropine is the typical drug of this class, and the WHO lists it as one of the few basic necessary medicines needed for an adequate healthcare system. Millions of people are prescribed atropine to control bladder or gastrointestinal spasms; we use it in mega high concentrations in resuscitation efforts because it makes your heart beat faster. So you can see they are serious drugs - when purified and used in concentrations
more than a thousand times
that used in Hyland's Teething Tablets. It is very possible to give yourself belladonna poisoning, but I would imagine most children would have to eat at least a bottle or several bottles to achieve even the milder adverse effects.
Ironically the dose is low enough that if Hyland's was
advertising
that their product contained atropine, the FDA and normal medical practitioners would probably be claiming that they're nothing more than sugar pills.
Despite the well-established nature of atropine, and the fact that the "homeopathic" dose is something like a thousand times less than any medicinal use, this is how the FDA chose to inform the public about the drug:
Belladonna is commonly known as Deadly Nightshade. It is a plant whose leaves and berries are extremely toxic. Belladonna has been used as both a poison and a medicine throughout history.
Acting more like it's a medieval poison than a modern medicine.
The FDA isn't saying what symptoms they received reports of, or how many occurrences. On the other hand, you can readily find
dozens of real-parent reviews of Hyland's Teething Tablets
, or look over
the Facebook fan page
for more accolades. No reports of adverse effects are easily found online; let me know if you come across any.
It's just dumb. Dumb, dumb, dumb. This product is so benign it's not even funny. I'm sure this is chiefly based on the fact that belladonna, used as a plant-based ingredient, contains recognized drugs, but is not a purified or easily measurable form of the molecular drug compounds. The FDA would probably happily recognize and study Hyland's Teething Tablets if they were purified prescription drugs manufactured by Big Pharma. But they're not, nor do they need to be, and Hyland's probably doesn't have the resources to begin processing like a big pharmaceutical company. So the FDA will just wear them away.
Ironically the FDA action and recall led to the product selling out on Amazon.com. My wife knows someone who just ran around town and purchased 25 bottles.